The Gastric Brooding Frog's Reproductive System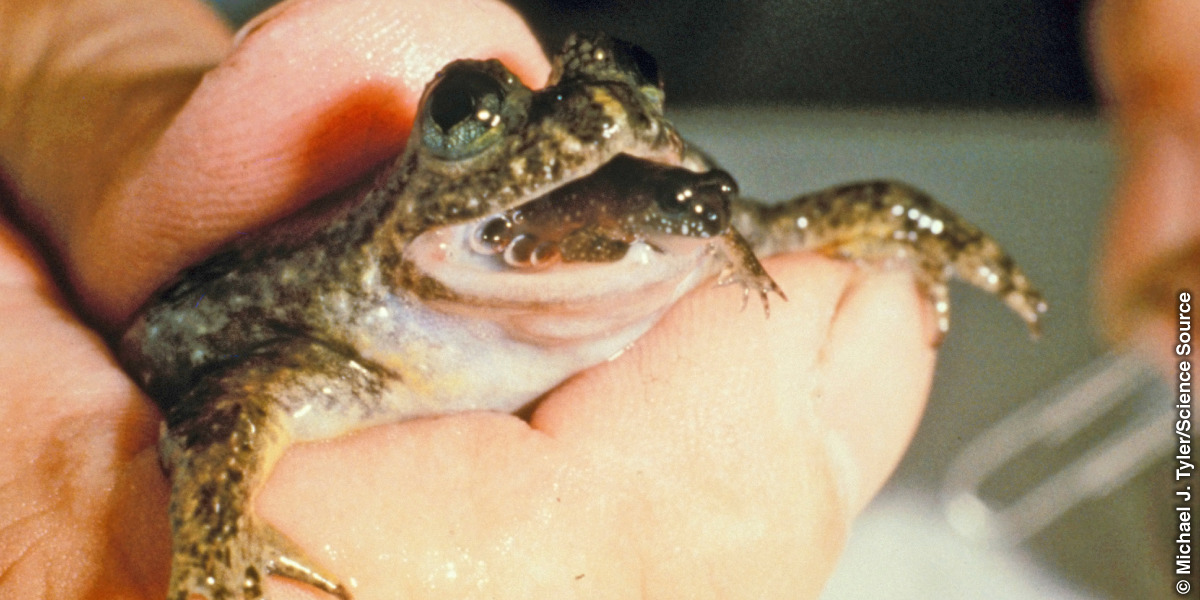 澳大利亚胃育蛙的繁殖方法十分奇特。雌蛙会把自己产下的卵吞下,让卵在胃里孵化。大约6个星期后,幼蛙就会从母蛙的口里出来,这时它们已经完全发育。
THE Australian gastric brooding frog had a bizarre means of reproduction. The female swallowed her fertilized eggs and incubated her young in her stomach for about six weeks. Her babies later emerged from her mouth as fully developed frogs.
孵育幼蛙期间,雌蛙必须停止进食和产生胃酸,才不会把卵消化掉。显然,蛙卵和蝌蚪都会分泌一些能抑制胃酸产生的物质。
To keep from digesting her eggs, it was necessary that the mother frog not only stop eating but also stop producing stomach acid. Evidently, chemicals released by the eggs and hatchlings inhibited the production of acid.
一只母蛙通常会孵出20多只幼蛙。这时,母蛙的胃会胀得很大,以致肺部被完全压扁,于是母蛙不得不靠皮肤呼吸。
The mother would brood about two dozen eggs. By the time she gave birth, The young frogs stretched the mother's stomach to the point that it completely compressed her lungs, forcing her to breathe through her skin.
一般来说,幼蛙会从母蛙口里一只一只地出来,整个过程要用上好几天。可是,母蛙如果意识到有危险,就会马上把所有幼蛙都吐出来。
The baby frogs would normally emerge over a period of days as they became ready. If the mother sensed danger, though, she would give birth by vomiting them out.
有些人说,胃育蛙的繁殖特性是进化而来的。假如这是真的话,它们的身体结构和行为模式就必须在同一时间发生巨大的改变才行。科学家兼进化论者迈克尔·泰勒说:"它们的繁殖方法不是完全成功,就是完全失败,不可能是慢慢而逐渐地演变而成的。"泰勒又说,惟一合理的解释是,胃育蛙的繁殖特性是在"一个迅速而巨大的变化过程"中出现的。有些人说,这个过程就是创造。 
If, as some claim, its reproductive system evolved, the gastric brooding frog would have had to make vast changes to both its physical makeup and its behavior all at once. "It is inconceivable to contemplate a slow and progressive change in its reproductive biology," wrote scientist and evolutionist Michael J. Tyler. "The habit is totally effective or it fails completely." The only plausible explanation, Tyler says, is "a single, huge, quantum step." Some would say that such a quantum step is called creation.